Miami Dolphins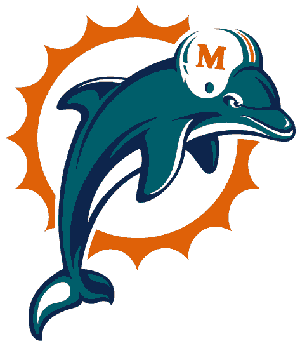 The Miami Dolphins are a professional American football team based in the Miami , Florida Metropolitan Area. They play their home games in the Miami suburb of Miami Gardens at Dolphin Stadium. They are headquarted at the Miami Dolphins Training Facility in Davie , Florida . The Dolphins are members of the Eastern Division of the American Football Conference (AFC) in the National Football League (NFL). The Dolphins began play in the American Football League as an expansion team in 1966 by Joseph Robbie, and joined the NFL as part of the AFL-NFL Merger. The Dolphins are the oldest major-league professional sports franchise currently in the state of Florida . They are currently owned by Wayne Huizenga.
The team made its first Super Bowl appearance following the 1971 season in Super Bowl VI, but lost to the Dallas Cowboys. In 1972, the Dolphins completed the NFL's only perfect season to date in the Super Bowl era, winning all 14 regular season games, two playoff games and Super Bowl VII. The team also won Super Bowl VIII, becoming the first team to appear in three consecutive Super Bowls, and the second overall team (first AFL/AFC team) to win back-to-back championships. Miami also appeared in Super Bowl XVII and Super Bowl XIX, losing both games.
For most of their history, the Dolphins were coached by Don Shula, the winningest head coach in professional football history. His Dolphins teams posted losing records in only 2 of his 26 seasons with the club. Six future Hall of Fame members played for Miami during the 1970s, including running back Larry Csonka and quarterback Bob Griese. During the 1980s and 1990s quarterback Dan Marino became the most prolific passer in NFL history, breaking numerous league passing records. He led the Dolphins to numerous playoff appearances and Super Bowl XIX.